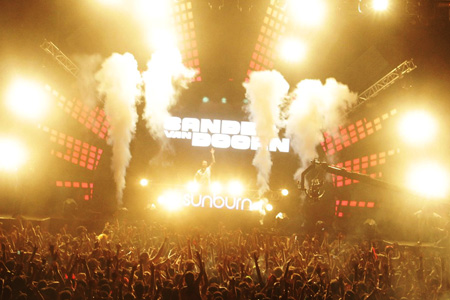 We are riding on waves and waves of dance music, without stopping to say, "Our feet hurt." That's what a music festival by the beach does to you.
1. Song and Sand
The music is literally flowing through our veins, and our sand-dusted feet will wholly testify to the dance craze that has gripped us. It's like a spell that won't allow us to stop moving. The DJs who caused this dance hysteria were Fedde Le Grand and Richard Durand. You have to be here to believe it – some sort of a sand haze settles on the crowd caused by the foot stomping and non-stop dancing. Every night by closing time, we are covered in sweat and sand as we gasp for breath, but with big smiles on our faces, exhaustion is the last thing on our mind and we prepare for another day at Sunburn.
2. Beach bums
We repair our dance-inflicted souls by lying on the sand like beached whales. Those shacks on the beaches are perfect spots to laze around while guzzling beers or any drink of your choice. Preferably, alcoholic otherwise you are doing a disservice to Goa.
3. Spa-rty
What about our damaged bodies which need to be fixed? We just promptly booked an appointment at the spa. After a divine 90-minute deep tissue massage, fresh energy flowed through our senses and it was back to more partying. We are smart like that!
4. Sugar High
The sugar rush works and we need it now, more than ever. Thankfully, there are a couple of bakeries that are a few minutes away from the venue. We refuse to have a big meal fearing the worse out of a sluggishness caused by food coma. Instead, we just do with small bites like Shwarmas at the venue and chocolate treats from these bakeries.
5. Shop Hop
There is a flea market with music festival paraphernalia like glitter top hats, hair bands with rabbit ears, colourful wigs, masquerade masks and more to add to your party uniform. Oh and there are hula hoops! Yes sir, there are dancers with hula hoops on the sand and we are thoroughly fascinated. But guess which stall is the biggest crowd puller? The Havaianas! Footwear gets lost, broken and torn and we only realise what happened when the party is over. That's when we head to this particular stall to get a brand new pair and hope they won't meet the same fate.
6. Late Night Drives
After an afternoon, evening and night of dancing, the midnight has to border on – take it easy. That's when we go for a big meal and hit the road. Midnight drives under a full moon in Goa is mystical beyond comprehension. Just roll down the windows and take in the beauty of the place.
7. Early Morning Swim
We balance out the madness of the night by being water babies in the morning. Floating on the water while staring at clear blue sky, sipping coconut water and wishing that this could last forever pretty much sums up our morning routine.
8. Festive Style
Dressed-to-dance is an art that we are attempting to master by drawing inspiration from those who have nailed it. While shorts are the standard uniform here, there are girls who add their unique touch by wearing angel wings, carrying a deliciously funky bag, sporting crazy sunglasses and channeling cool with such effortless ease. We took this opportunity to get camera happy and have diligently documented style spotted at the festival. Watch this space for the fun feature!
9. Friends and fun
We wouldn't be having half as much fun without friends who are music bugs and know which is the best act to attend, friends with cars who drive us around, and friends who have stalls at the venue so we get a free supply of food. Yes, we have a lot of reasons to be thankful.
10. Looking forward to…
Today is the third and the last day at Sunburn 2012 and it holds the promise to bring on much mayhem. The one gig that everyone is excited about is Paul Van Dyk's, who is among the world's top 10 DJs since 1998. We have prepared ourselves by getting a lot of sleep and feasting on a heavy breakfast. Because, today is the day when we party like crazy, before we say goodbye to the beautiful year that's 2012.
OMG you're not part of the madness, as yet!? Book your tickets on the Sunburn Goa 2012 official website and be our guest!
Sponsored By
Tags: dance festival, music festival, party, Sunburn 2012