Yes, we're those fashionable girls who won't say no to a perfectly irresistible red velvet cupcake or a deliciously cooked risotto every now and then. Don't believe us? Take a quick peek into STRUT120's list of favourite food blogs we frequently snoop around to get our daily doses of food heaven.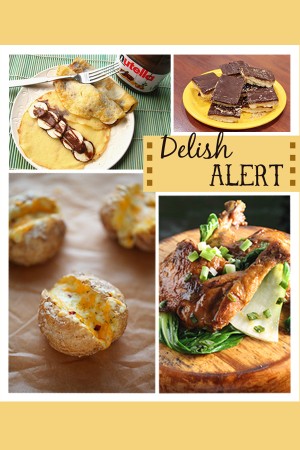 1. The Purple Foodie 
Even you knew that Shaheen Kiswani (formerly Peerbhai) would make it to this list! Originally a food recipe blog, now The Purple Foodie combines both food and travel on her virtual diary. Enjoy reading snippets of cafés and food markets she's visited, and take notes of her various recipes and often, successful kitchen experiments.
STRUT120 loves: Kiswani's use of interesting backgrounds that make her pictures so visually appealing (she even pays attention to the tablecloth against which she shoots her food and desserts!).
Recipe to try: Banana Nutella pancakes
2. Like A Strawberry Milk 
Here's a confession, we judged this French food blog by its title and got sucked in deep! Fanny, a French girl, is a pastry chef in London who created this blog to document her recipes and visits to various pâtisseries.
STRUT120 loves: Her cute blog layout and pretty pictures won us over.
Recipe to try: Chewy flapjacks
3. The Curly-Haired Cook 
A food and wine writer by profession, Antoine Lewis brought his blog to life to share recipes of his own and those adapted from his mother's cook-book. Comprehensive yet extremely simple (read: Mac-n-cheese pancakes), you can try out Lewis's recipes without having to hunt hard for ingredients.
STRUT120 loves: The unique party snack recipes (to serve at our next bash)!
Recipe to try: Sweet-corn-and-prawn-stuffed paani puris
4. Clumbsy Cookie 
When it comes to these buttery treats, even we can't keep away! Clumbsy Cookie, who doesn't reveal their real identity, still manages to draw us in. Reading the posts on this blog practically makes us smell the warm, rich aromas coming from the Clumbsy Cookie oven.
STRUT120 loves: The fun recipes and cheerful cookie background.
Recipe to try: Chocolate chip cookie ravioli
5. Eat, Love, Dance, Pray, Laugh n' Hug
An ex-MTV VJ and a complete foodie at heart (as is evident on her blog), this sweet mama will take you on a virtual tour of her kitchen. Maria Goretti loves feeding her kids and friends; she'll make you fall in love with the art of cooking and baking.
STRUT120 loves: Maria's honest, pure and heartfelt joy of sharing her recipes.
Recipe to try: Baked chicken à la Mama
6. Can You Stay For Dinner? 
Why, yes we can! Andie Mitchell, who used to weigh 268 pounds (122 kg) five years ago, documents how she lost half her weight and how she maintains it; she also shares some delicious recipes with you that help you stay both happy and fit.
STRUT120 loves: Her personable way of sharing recipes and the underlying thought behind her blog.
Recipe to try: Petite lasagna
7. Annie's Eats
Annie sure knows how to keep an avid foodie occupied! Pretty pictures and lovely recipes, her categories even include a special section for baby food. Find customised holiday recipes like eggnog cupcakes for Christmas and caramel apples for Halloween. A real challenge for us, however, would be to make her awfully cute Sesame Street cupcakes!
STRUT120 loves: Her carefully segregated categories and mouth-watering pictures.
Recipe to try: Strawberry balsamic bacon pizza
8. Yumsilicious Bakes
We nearly clapped our hands in glee when we came across this Bombay baker. Twenty-something Avanika Kiswani invents and experiments with various recipes for your sweet tooth. She's also saving up to set up her own bakery in Mumbai and well, all we can say is that we hope that happens real soon!
STRUT120 loves: Her enthusiasm and easy-to-try recipes.
Recipe to try: Chocolate caramel shortbread
9. Kiss My Spatula
From Vietnam, Kiss My Spatula entails recipes to some lip-smackable meals and drinks. Extremely well-written supplemented by vivid and colourful images, this is one blog with its own rich flavour.
STRUT120 loves: The eastern heritage brought to life through the various eats.
Recipe to try: Pan seared salmon with lemon butter
10. Divine Taste
Definitely a heavenly find, Divine Taste is written by Anushruti R.K, who believes in sharing her unique recipes that use no meat, fish, eggs, wine, onions and garlic. Wow! We know you're thinking, "Are they kidding or what?" Perked by genuine interest, we found some really yummy treats here (especially the tomato pickle) that you have to try yourself to believe our word is golden.
STRUT120 loves: The pristine layout accompanied by wonderful pictures and easy methods.
Recipe to try: Cheesy baked jacket potatoes
Photo courtesy: Shaheen Kiswani; Avanika Kiswani; Anushruti R.K; Saina Jaypal