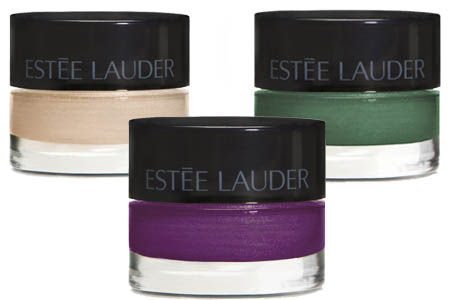 Estée Lauder introduces the unparalleled texture, extreme performance and intense color in creme eyeshadow, Pure Color Stay-On Shadow Paint. Whether it is a bold, right off the runway flash of color or a soft, sophisticated wash of watercolor, this high style collection will drench eyes in a silky smooth buildable mousse creme and captivate with rich pigments to create eye-catching looks that last all day!
Pure Color Stay-on Shadow Paints include a range of long lasting hues in a creamy and richly pigmented formula that glides onto the lids with mousse-like softness. Worn alone or mixed to create infinite seductive and sophisticated looks, the truly versatile formula features buildable pigments that envelop lids for seamless, stunning depths of color.
With unbelievable 12-hour wear, the hybrid texture is comfortable, non-creasing and non-fading.  Pure Color Stay-on Shadow Paints wrap lids in a smooth creme that glides on and blends easily for pure pigments and light reflecting  pearls that stay shimmering all day and well into the night.
Infused with True Vision Technology – a unique concept of wrapping concentrated pigments into a crystalline laminate to create a multidimensional look – color is amplified and magnified with a glowing metallic finish. Mousse-like creme lays down a layer of pure pigments to recreate and redefine eyes, while prismatic light reflecting pearls add dazzle to each shade, for glimmering effects ranging from a subtle sheen to a dazzling shimmer finish.